Excitement as Royal Therapy Dog arrives as Wellington Eagles
What are the benefits of having a school dog?
Therapy dogs have been working in UK schools for the past five years but have been commonplace in schools in the US and Australia for many years. Research studies have shown the benefits of therapy dogs in schools which include:
Cognitive – companionship with a dog stimulates memory, problem-solving and game-playing
Social – a dog provides a positive mutual topic for discussion, encourages responsibility, wellbeing and focused interaction with others
Emotional – a school dog improves self-esteem, acceptance from others and lifts moods, often provoking laughter and fun. Dogs can also teach compassion and respect for other living things as well as relieving anxiety
Physical – interaction with a furry friend reduces blood pressure, provides tactile stimulation, assists with pain management, gives motivation to move, walk and stimulates the senses
Environmental – a dog in a school increases the sense of a family environment, with all of the above benefits continuing long after the school day is over.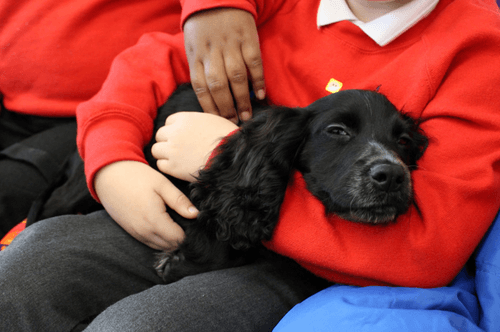 As you may be aware, there are already many 'Pets as Therapy' dogs working in schools. Reading to dogs has been proven to help children develop literacy skills and build confidence, through both the calming effect the dog's presence has on children as well as the dog listening to children read without being judgemental or critical. This comforting environment helps to nurture children's enthusiasm for reading and provides them with the confidence to read aloud.
As a new school building its reputation it's always been a dream of the school to have a therapy dog. Lillibet is a spaniel who is just beautiful. She got her name from Mrs Johnson-Motyl Children where she lives when not working in the school with many of the team eager to help and take on the responsibility of her care.
With regards to training Lillibet as a therapy dog Sarah Johnson-Motyl, headteacher at Eagles explains, "We will be working closely with Amy Wood who is the founder of the 'Dogs for Health' charity and works with many schools in the area including The Wellington Academy." Asked about how the school plans to introduce Lillibet to more nervous pupils Sarah explained, "Amy will be helping us when introducing Lillibet to pupils, especially for children who may be nervous or need support around animals."
Amy has already completed her first assessment on her, and she is very pleased with her progress thus far. She has already mastered walking on the lead and is taking well to toilet training.
Sarah also explained why they have chosen the name Lillibet, "She is named after our late Queen Elizabeth, and we feel the name Lillibet will remind us of how she was a fantastic role model and represented all of our school values." She added, "We also wanted to get the children involved in the naming process, so they have chosen the middle name of Rose."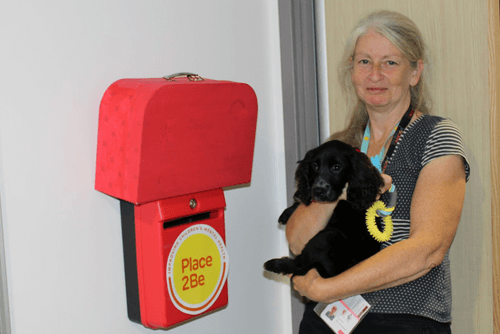 She comes with her own red suitcase that has her picture in, a box for the children to send her gifts and letters and a diary for the children to have input of their achievements and the first being Charlie who got 15/15 in his spellings, and he was rightly so very proud of his efforts and as a reward he got to spend some time with her. She works alongside the schools Senco to help children who are struggling in any aspects of school life. Also attending sensory sessions, she really is the highlight of the school day for all the children and staff alike. She does like to keep people on their toes by leaving little parcels during the school photos and also in the middle of the local supermarket. Parents can watch her progress and see updates as the PR Team add items to the website and the schools Facebook page so they can to join in the fun of her progress. She is just an adorable, soft- and warm-hearted little pup who I have no doubt will do good things in the school.
Sarah added, "We will be writing a poem about her and why she is named after the queen to share with King Charles & The Queen Consort and, of course, the children have said they would like them to visit us and Lillibet, so we will work together to make this dream come true. After all, we never had a grand opening due to covid so I believe a letter is being drafted to Buckingham Palace so watch this space!..
When not on duty Lillibet will live with Head teacher Sarah and her family of five boys so is sure to get plenty of love and attention.
Dogs for Health is a non-profit organisation founded in 2020. They offer animal assisted therapy, animal assisted interventions and animal assisted education. To find out more about the charity visit https://www.dogsforhealth.org.uk/